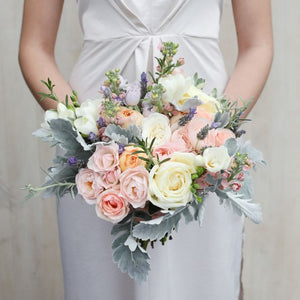 This bridal bouquet is an absolute scent sensation. Beautifully soft and subtle, pastel coloured scented roses such as Caramel Antique, English Miss, Everlasting Lavender, Jeanne Moreau and Vitality are complimented by sweet smelling Stocks and Freesias, softly textured silver foliage and flowering herbs. Neatly bound with our signature olive green satin ribbon ensuring the flowers are the stars of the show. Heavenly!
Pair with our Perfectly Pastel Bridesmaids and Flower Girl Bouquets and Pale Pink, White or Rustic Buttonholes.
Bridal Bouquet Size Guide
This beautiful bridal bouquet is made with 15 of the finest garden and spray roses from our Fairtrade Kenyan sister Farm.
Lead Time & Delivery Recommendations
This bridal bouquet requires 7 days notice prior to delivery. We highly recommend having this product delivered the day before the event using one of our premium timed delivery services.