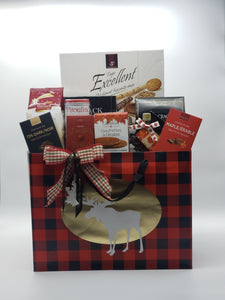 Looking for something affordable yet grand and filled with flavors? Here we offer a bag full of happiness! 
Bag contains the following items 
1. Made dark chocolate bar 100g 
2. Made maple chocolate bar 100g 
3. Coco truffles 17g 
4. Canada cost to cost Maple waffles 264g 
5. Canada True Maple syrup 50 ml 
6. Northwood cheese Smoked gouda pasteurized cheese 106g 
7. Cherington Water Crackers 190g
8. Coppenrath spiced ginger biscuits 400g
9. Black magic Caramels, nuts European Assorted sweets 174g 
10. Tago Excellent the finest biscuits mix 240g 
11. Fancy glazed thick paper bag deer on red black Buffalo check. 
12. Two wooden Christmas hanging charms 
Due to high volume of orders if we run out some items we may substitute the products equivalent or higher to the $ value.